THE DESIGN PRIZE 2021's golden madonnina in the category 'distribution' will go to multidisciplinary artist and founder of new york sunshine, john margaritis, and US apparel company dickies, for the installation 'SUN DYED IN TEXAS'. balancing between art, design, and fashion, the project features a house-shaped sculptural piece, as well as a billboard that reads 'just another day in paradise', set on a private ground in marfa's desert landscape. both are covered in dickies fabric, whose appearance will change in time due to the sun and weather conditions. designboom spoke with margaritis to find out more his collaboration with dickies, and what will happen to the fabric after the installation is dismantled. read the interview in full below.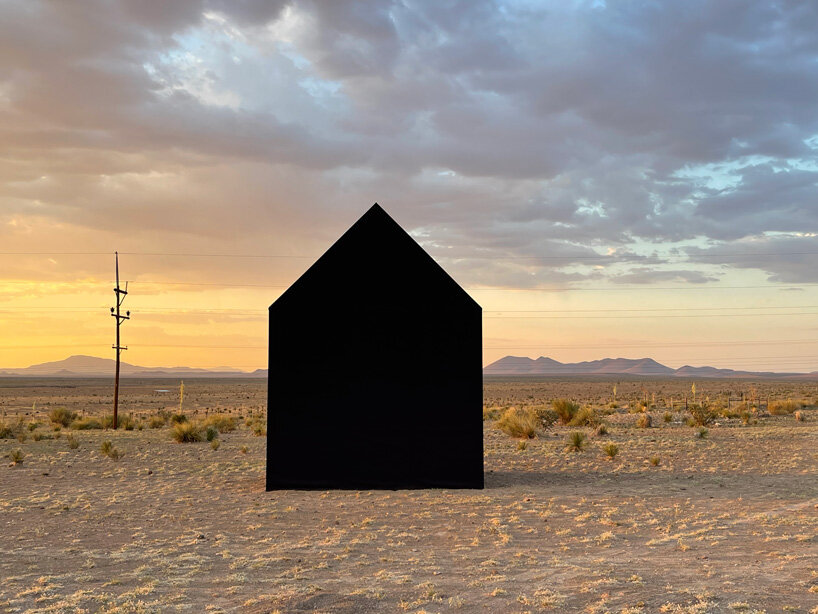 all images courtesy of new york sunshine and dickies
designboom(DB): how did the project develop?
john margaritis (JM): when dickies first reached out to me, they wanted a project that was outside of the box to lead off their 100 year anniversary. in my life, most of my favorite clothing is stuff I've had for years (if it still fits) and they all have character.
when I went to visit the dickies headquarters in fort worth, texas and went through their archives of old vintage pieces that were found in ranches and farmhouses, they all had so much wear and tear but held together so well. it made me think about the concept of speeding up the aging process and testing the durability.
when I get asked to work on projects based in fashion, I think about how I can present the idea so that it is unique, something I haven't seen before. the concept for the clothes usually comes from my thought process on some sort of physical build.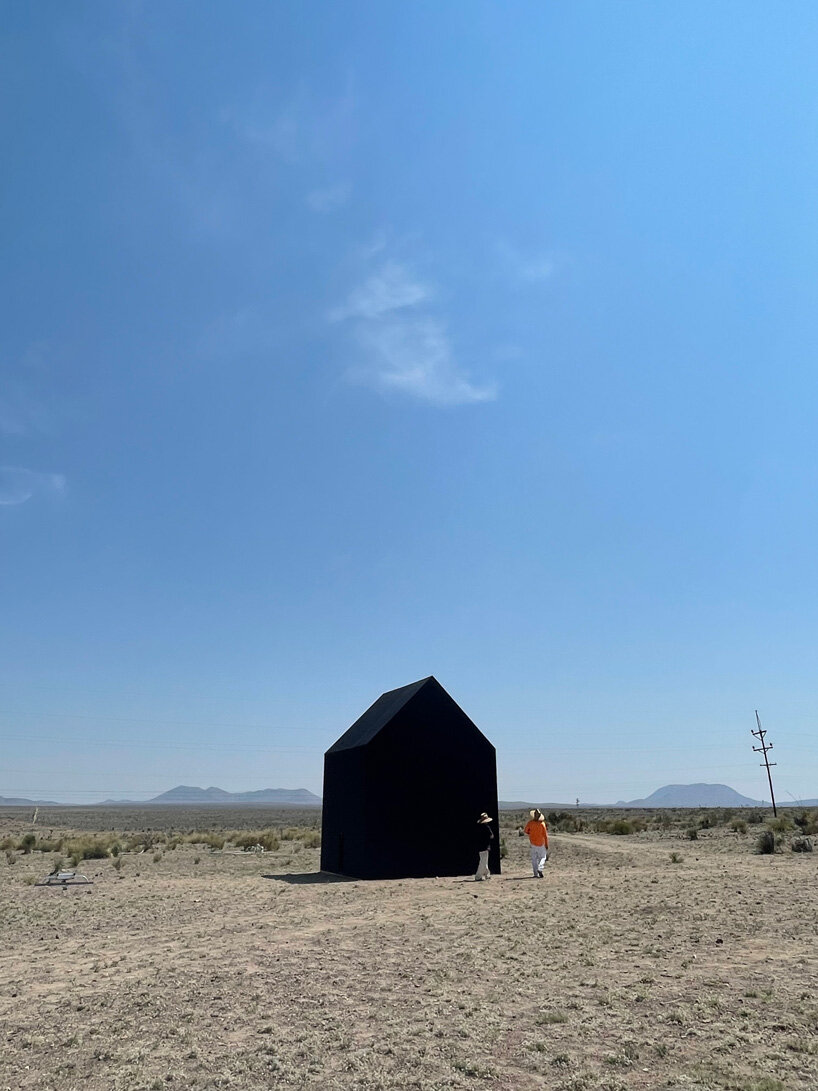 DB: when can we see it? public access?
JM: I wanted to do it in texas because that's where dickies home base is. specifically, I wanted to build in marfa because it's a place I've always wanted to visit, and I'm a big fan of donald judd. the installations are on a private piece of property in marfa that will be open to the public on august 13th and 26th between 8 – 11pm, where the light is most interesting.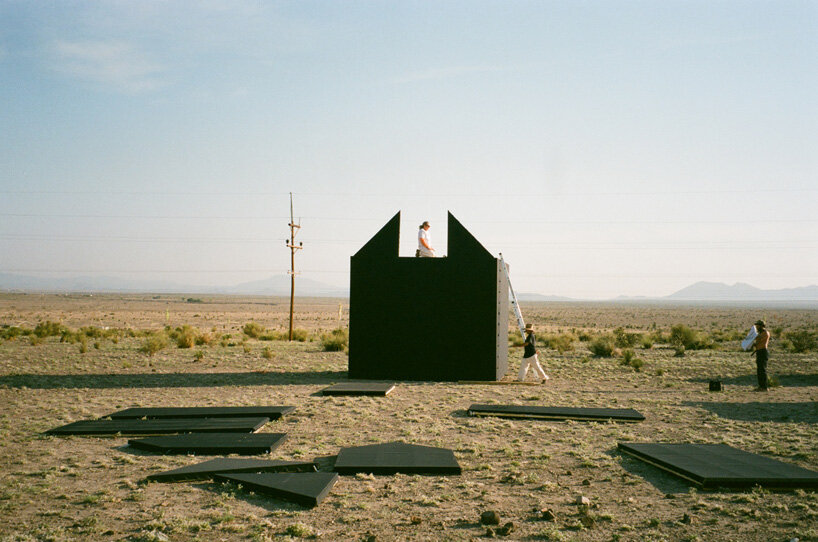 DB: what materials are used in 'SUN DYED IN TEXAS'?
JM: dickies blue twill fabric, construction lumber, fasteners, screen spline to stretch the fabric taught and hold in place and a lot of sweat from the install team.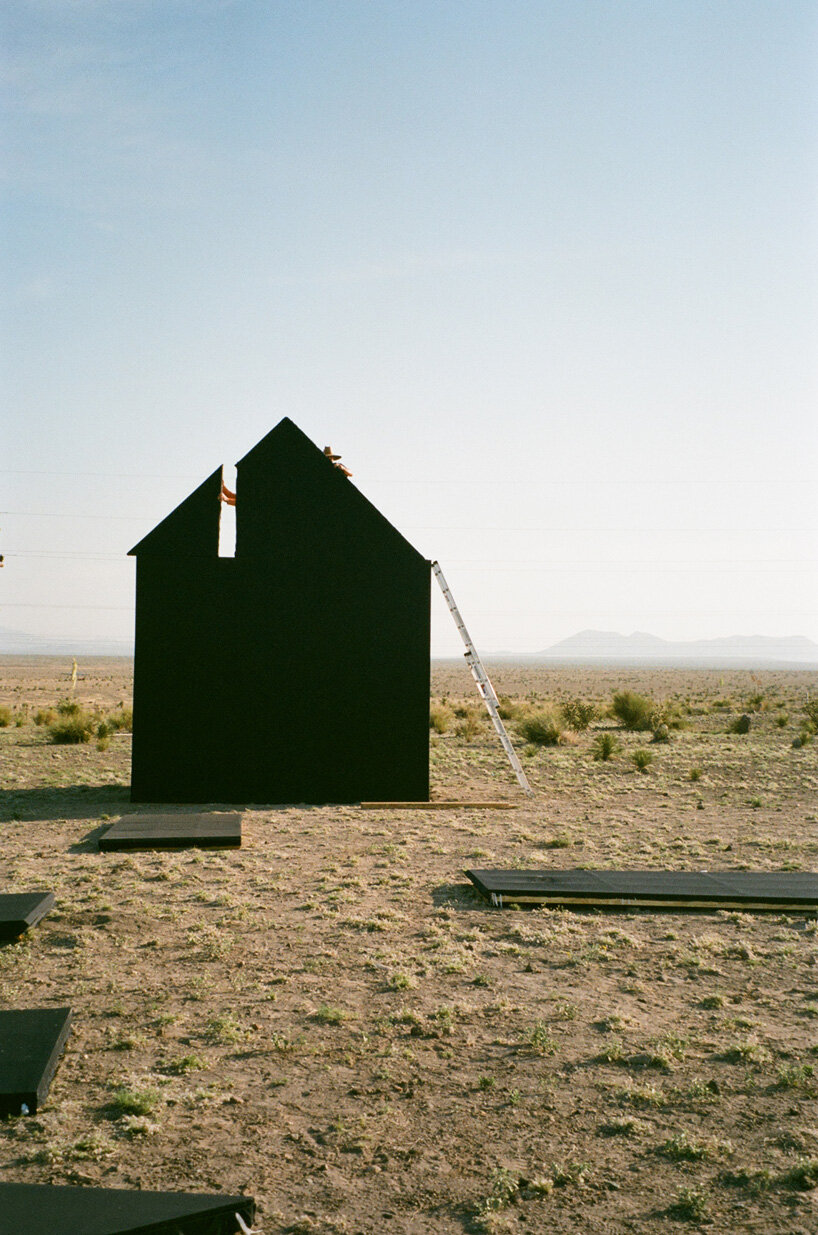 DB: you like to get crafty with your 'install team'. please explain the challenges and what actually is offering a sense of achievement and satisfaction?
JM: it's more construction based than craft based. we had to take environmental factors like high desert winds into consideration during the engineering phase. we also pre fabricated and assembled all components here at my studio in new york before they had to be shipped across the country.
working with my hands was instilled in me from a young age by my dad, who worked in construction. I work with him on all the big ideas that come out of new york sunshine. it usually starts with a sketch, then a scaled model, and finally the actual build.
the biggest challenges on this project were first foremost the overall size- large fabric panels act like sails in the wind. second, we had to come up with a modular design for the house so that it could be more easily disassembled, shipped, and reassembled. the remote location made logistics difficult, and the rocky terrain presented issues with anchoring the sculptures. finally, working in the texas heat is no joke.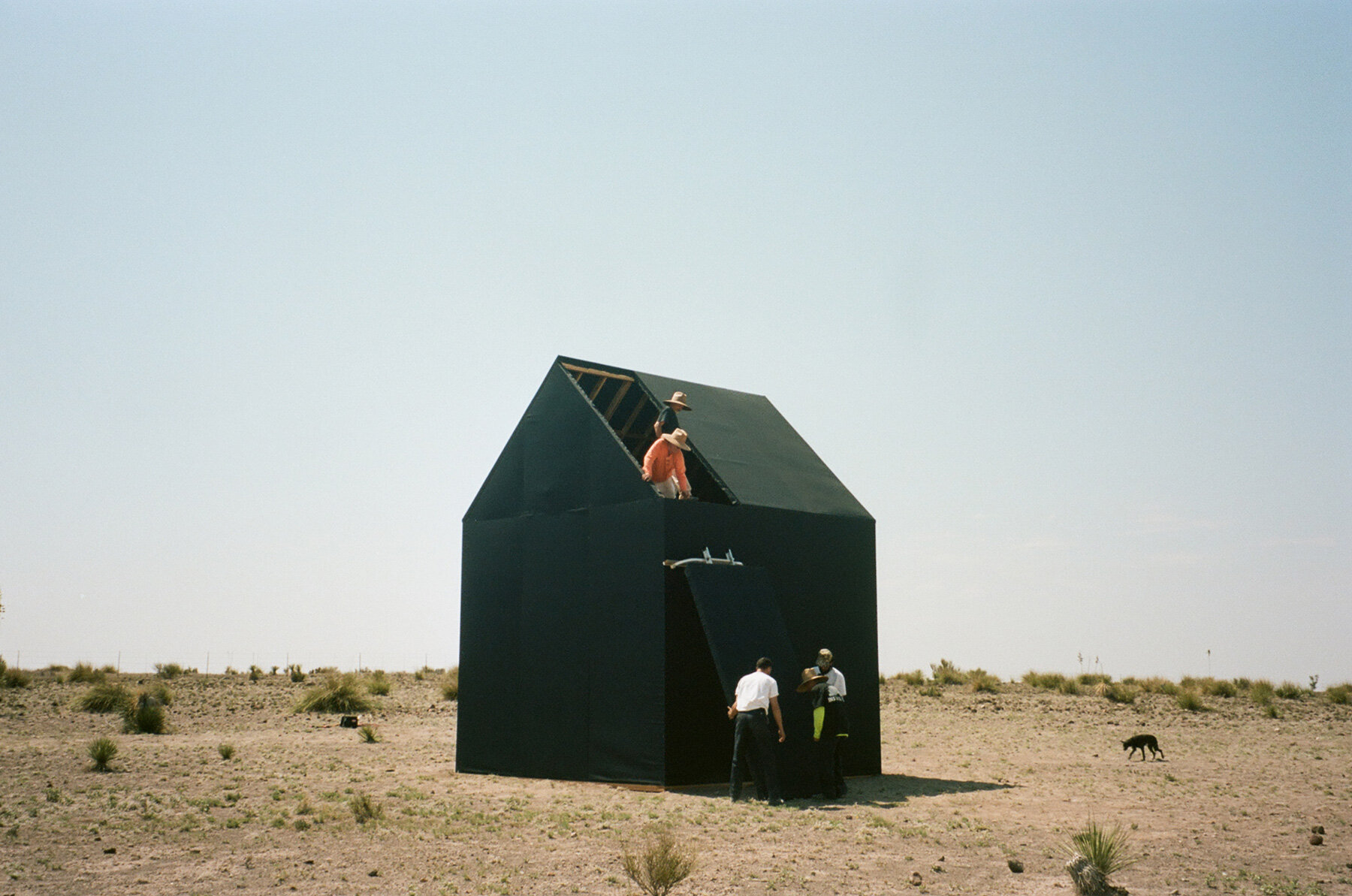 DB: for how long will the installation stay in marfa, and how will its appearance change over time?
JM: both the framework and billboards were fully installed by june 1st – they won't come down until september 1st.
the goal is for nature to interact with the pieces. we positioned the billboards and house so that each side will get a different amount of sun and fade differently. I want the sun to bleach it, sand to blast it, and whatever else goes on in the desert at night in marfa (aliens) to do their thing. I don't know what will happen, but from the 5 days the team and I spent working in the 100 degree desert, I feel like I aged several years.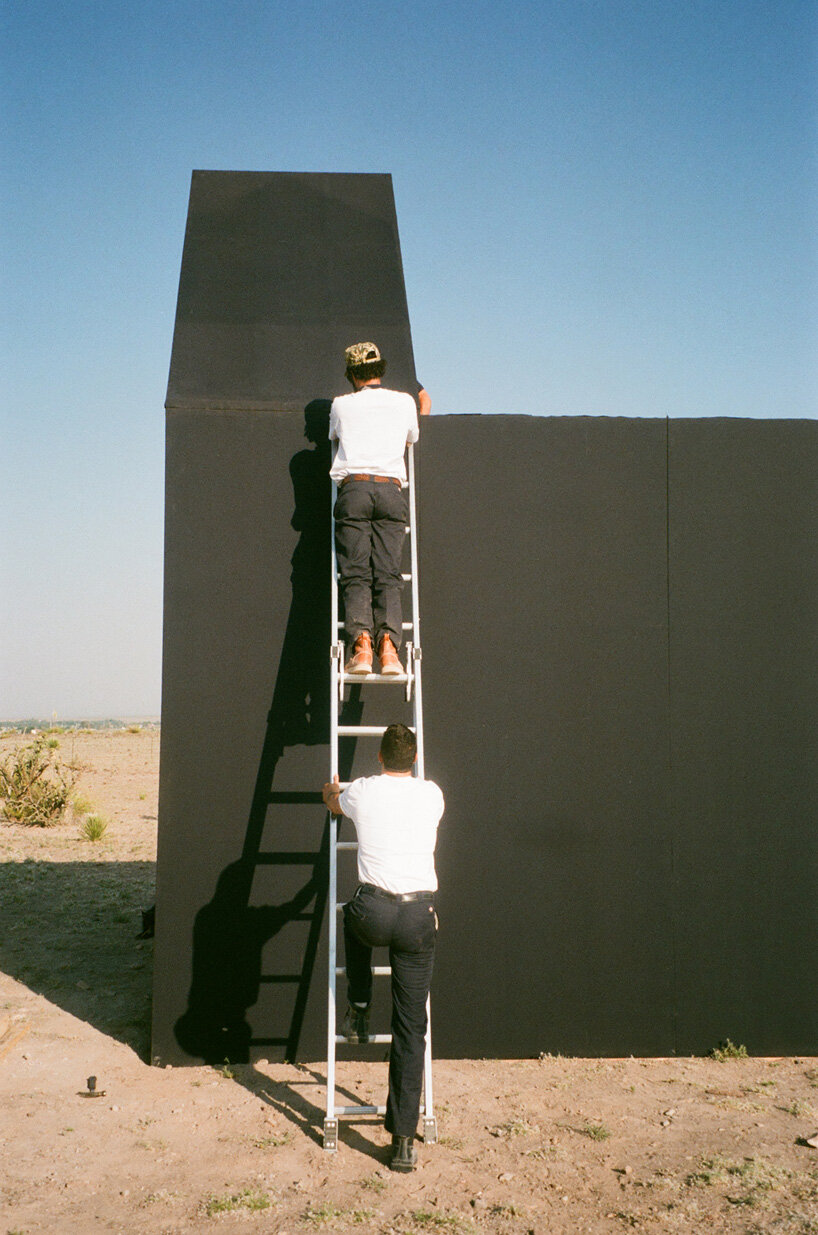 DB: what do you want visitors to take away?
JM: when I go to see installation art, a lot of times I find myself looking at the work from a build perspective; how is it assembled, what materials are used, how much does it weigh, where is it located, and how did they move it here– rather than from an critical perspective. with the work I produce, I want people to have part of that sentiment.
I want them to think about whether this work is a load of commercial bullshit or if there is more to it past what they see at face value. I want them to think about the balance between fashion, art and design, which are all of equal importance to me. when the house glows blue during the wild west texas sunsets, it has this trippy mirage feel to it, which ties into the billboards reading 'just another day in paradise'.
lastly I'd like people to see both the simplicity and the intricacies that are my work – how the fabric seams line up perfectly to the frame of the building, and the relationship between the monolithic appearance and the fact that it is actually constructed out of 24 individual panels.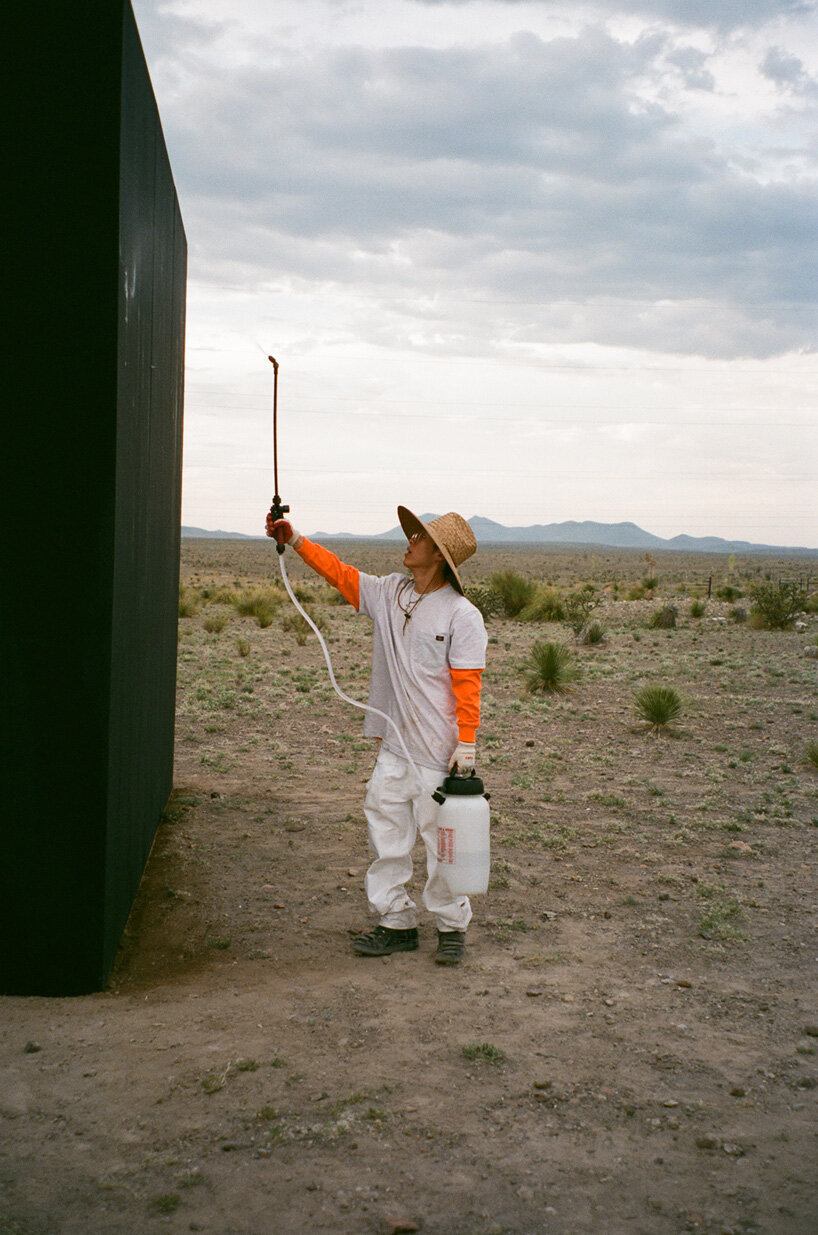 DB: what will happen to the materials, the fabric, … once the installation is taken down?
JM: one of my favorite parts about this project is the zero waste factor, all the fabric from the billboards and the house will be upcycled into a new york sunshine and dickies clothing collaboration which will launch in 2022. the wood will be reused for the pop-up store in new york to support the collaboration.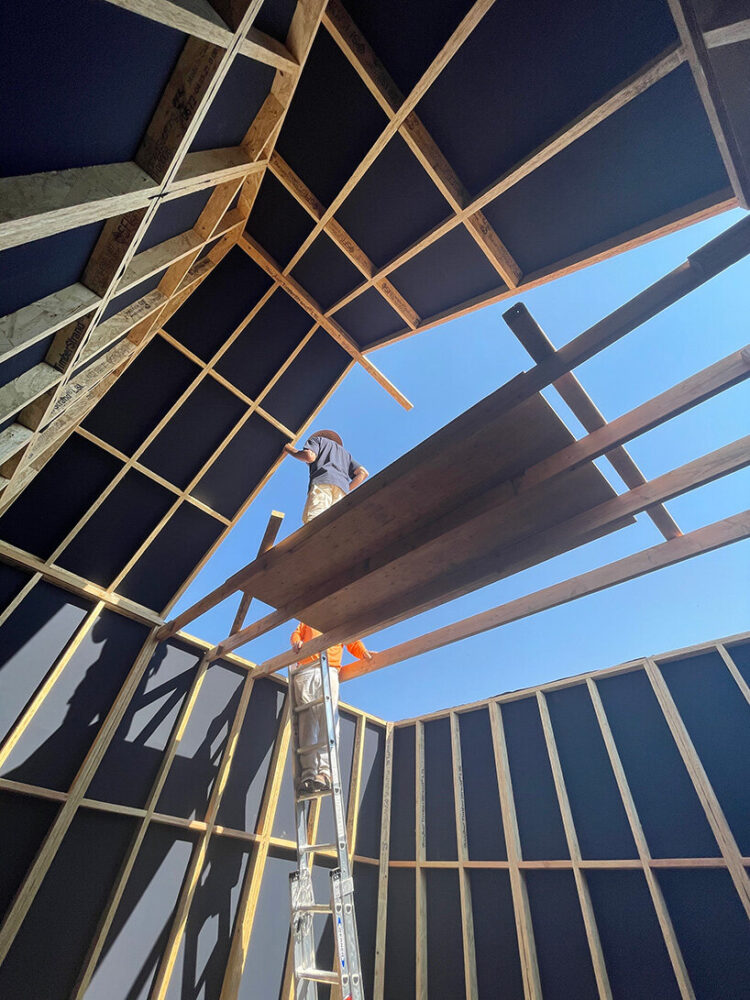 DB: does this poetic, slow-paced process of altering the fabric's appearance naturally serve as a comment on fashion's dark side of toxic dyes and pollution?
JM: sometimes we'll have a project that will use a ton of materials for just a weekend and then gets discarded, this just speaks to trying to mitigate waste in a creative fashion.
DB: how does 'SUN DYED IN TEXAS' illustrate the brand ethos of dickies?
JM: I believe it shows the integrity of the products made in their 100 years of existence. this project tests the strength, durability and quality of the fabrics day and night against all of the elements that texas has to offer.
View this post on Instagram
DB: previously you collaborated already on several projects, what led to the pairing of ny sunshine and dickies' work?
JM: dickies is something I've always worn and it's exciting to get contacted by a brand that I genuinely like. I like how dickies can be worn by both an MTA bus driver or by kanye at the met gala; their garments and brand are a true blend of good utility work clothing and fashion. everybody has a good pair of blue dickies.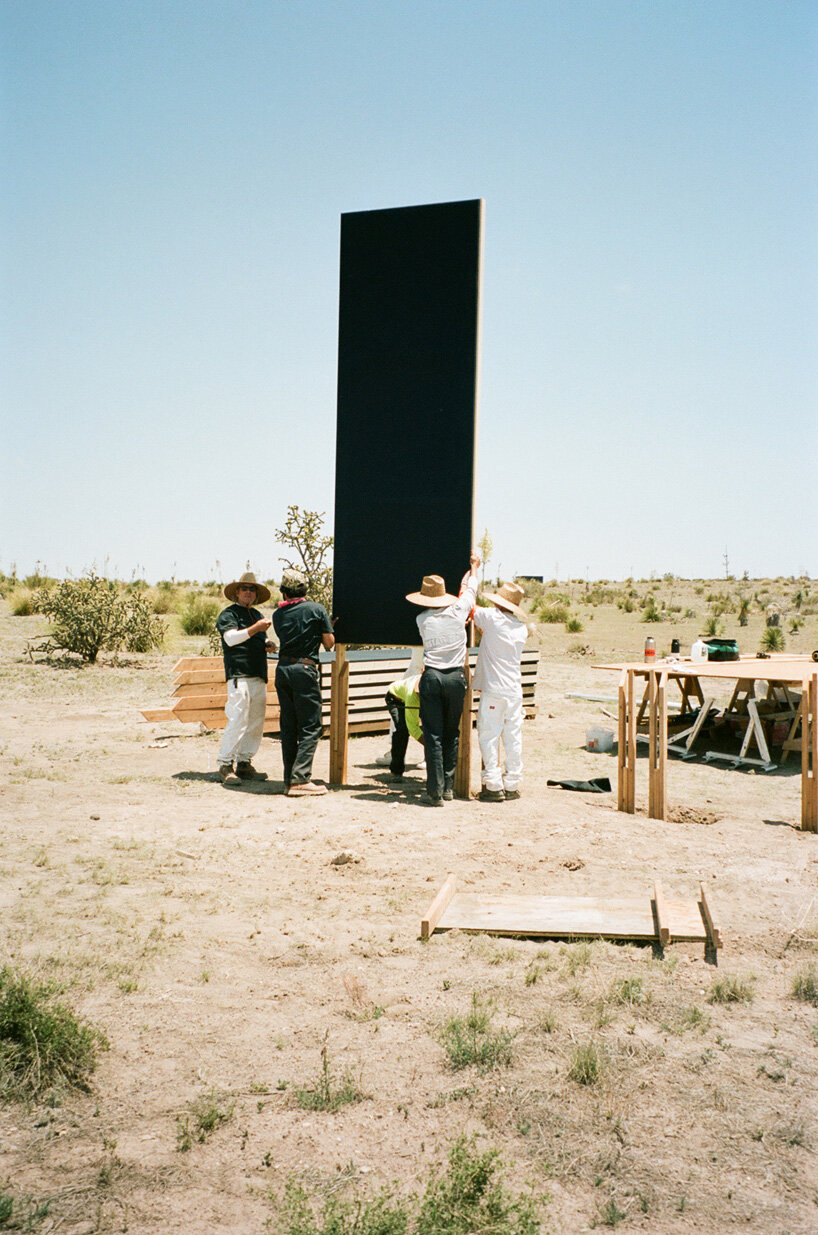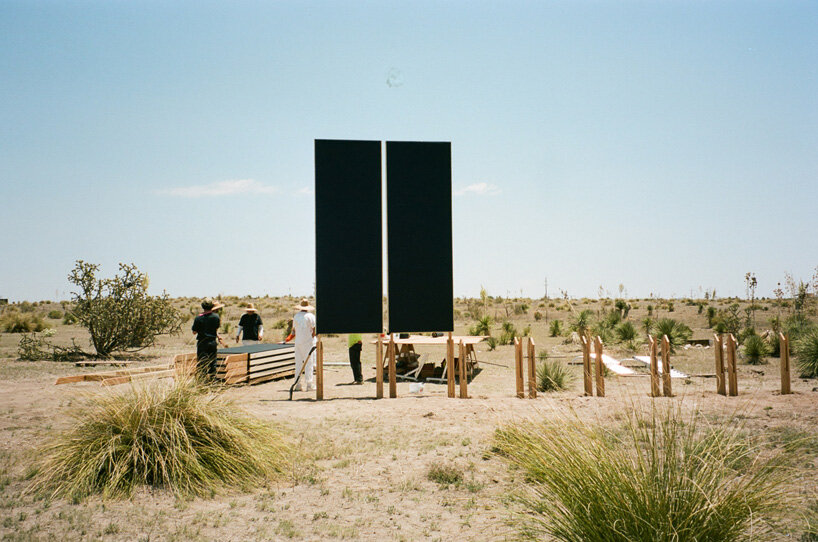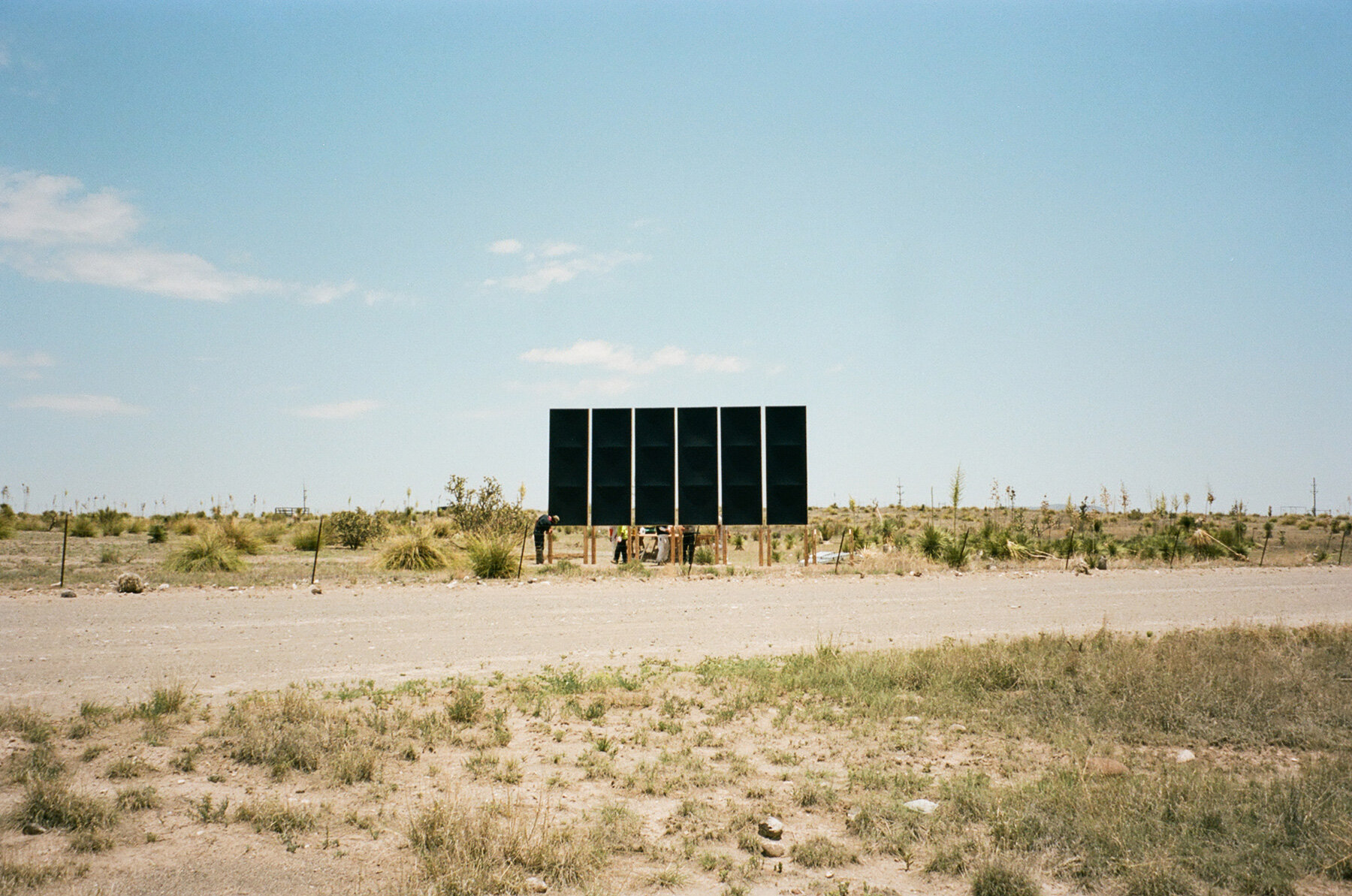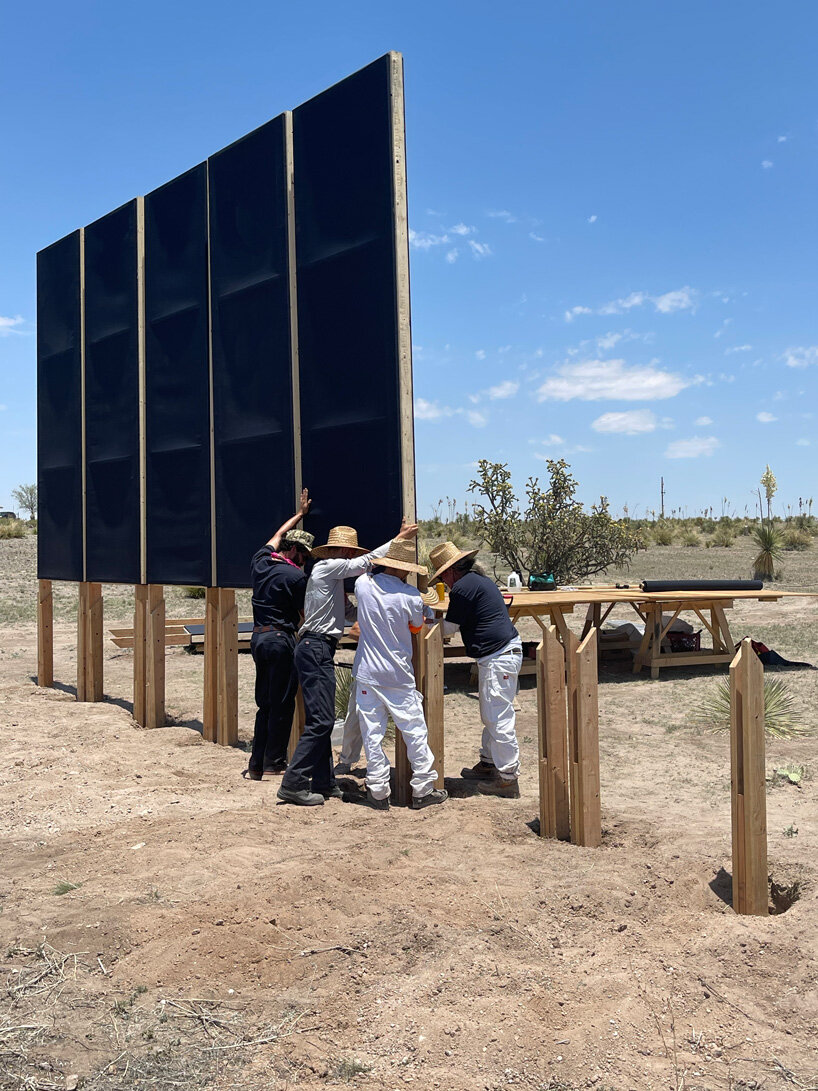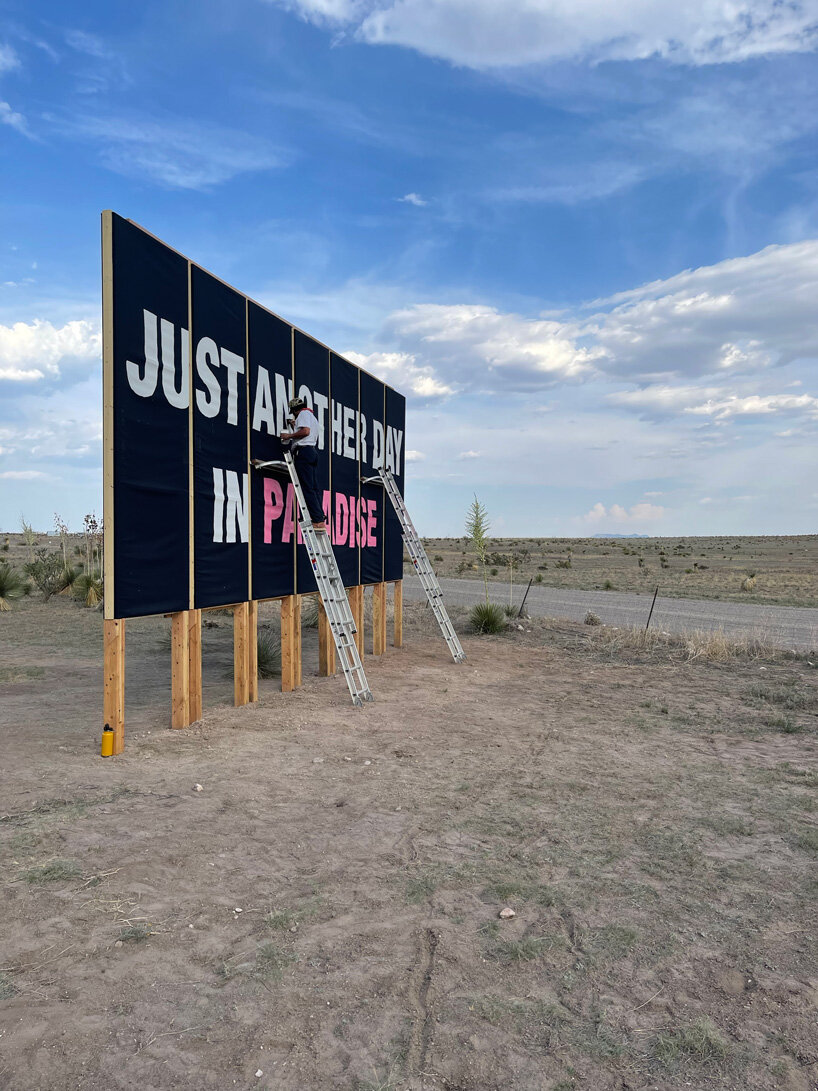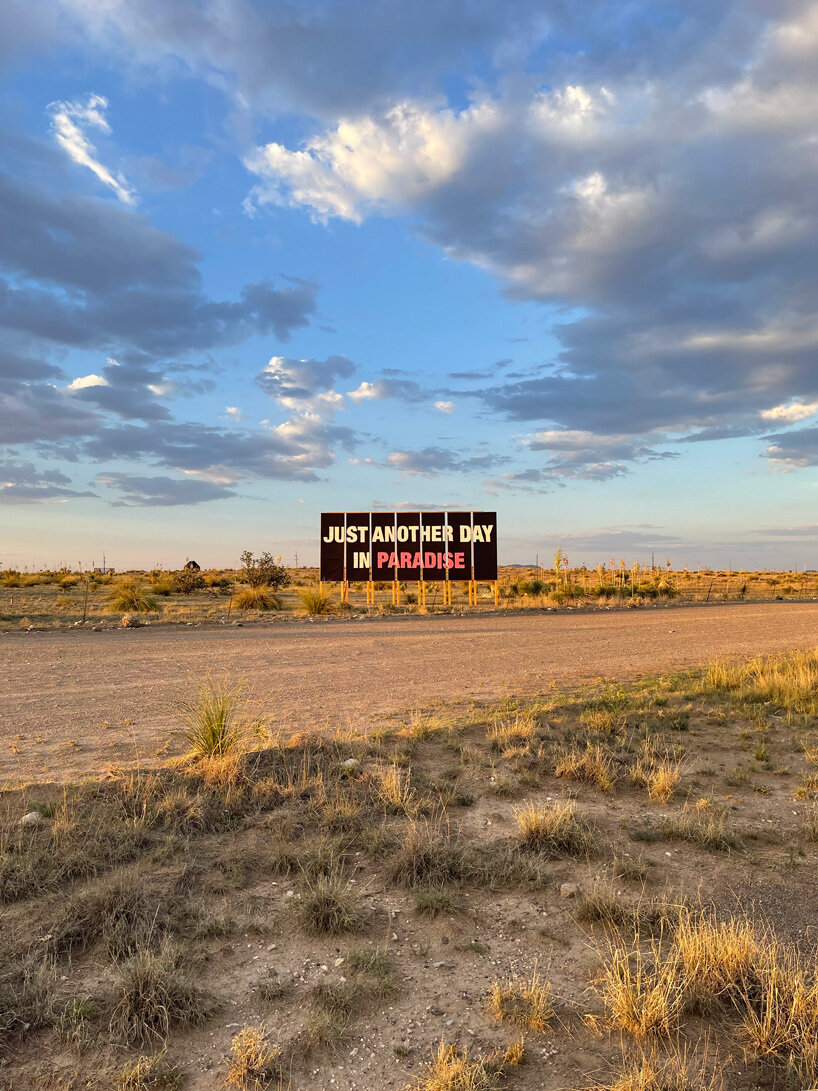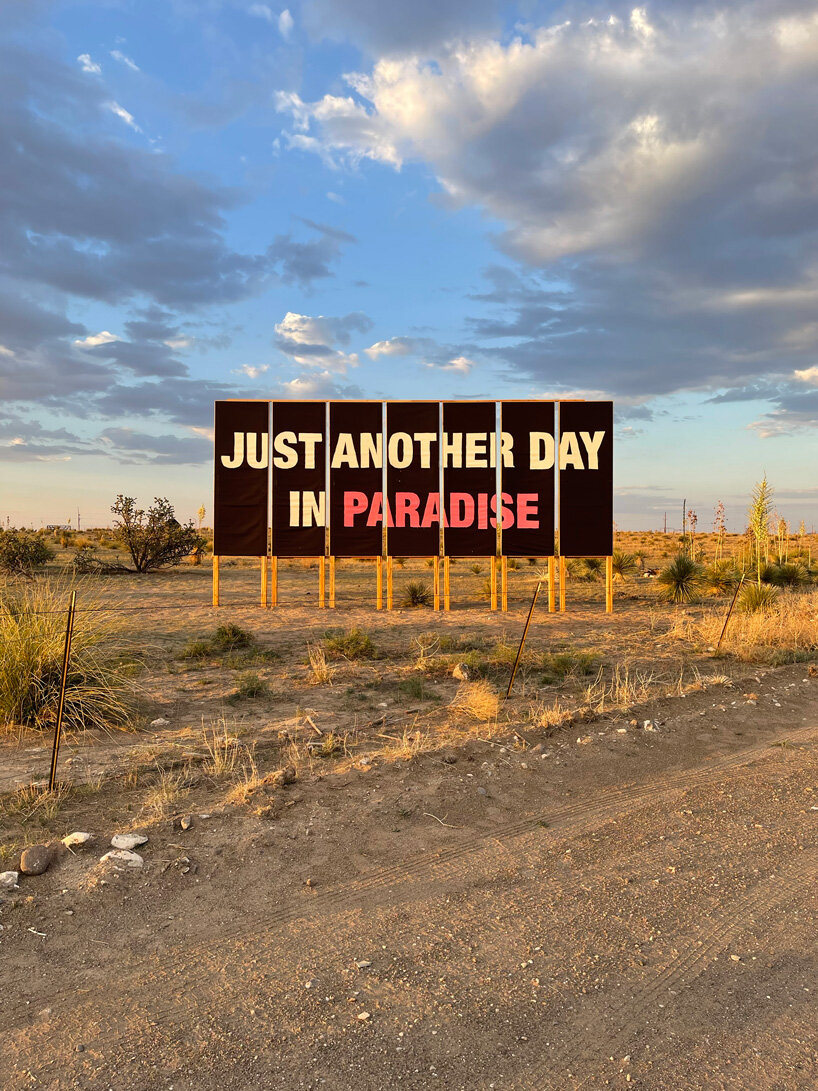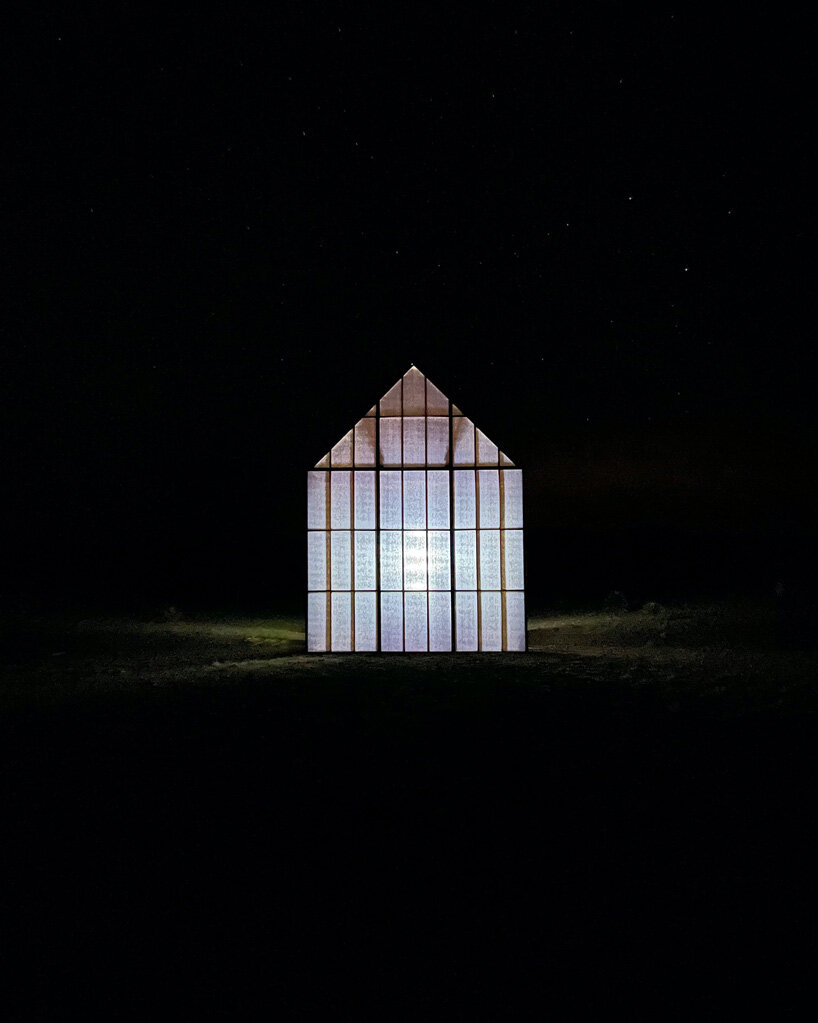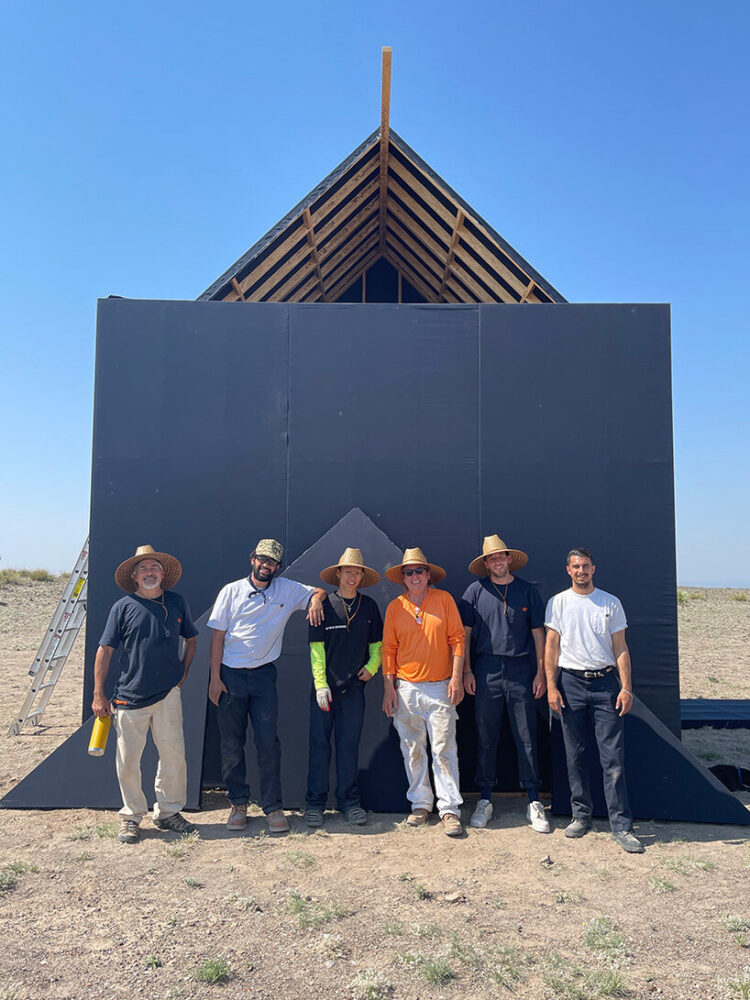 project info:
name: SUN DYED IN TEXAS
designer: john margaritis/ new york sunshine in collaboration with dickies
location: marfa, texas, US
open to the public: august 13th and 27th between 8 – 11pm
THE DESIGN PRIZE is an annual award program that celebrates excellence on a global scale. initiated in 2017 and curated by designboom, with patronage by the city of milan, THE DESIGN PRIZE recognizes both the extraordinary achievements and little sparks of beauty and delight that have emerged over the past 12 months.
shuhei senda
I designboom
aug 01, 2021
a diverse digital database that acts as a valuable guide in gaining insight and information about a product directly from the manufacturer, and serves as a rich reference point in developing a project or scheme.
designboom will always be there for you
milan, new york, beijing, tokyo

,
since 1999